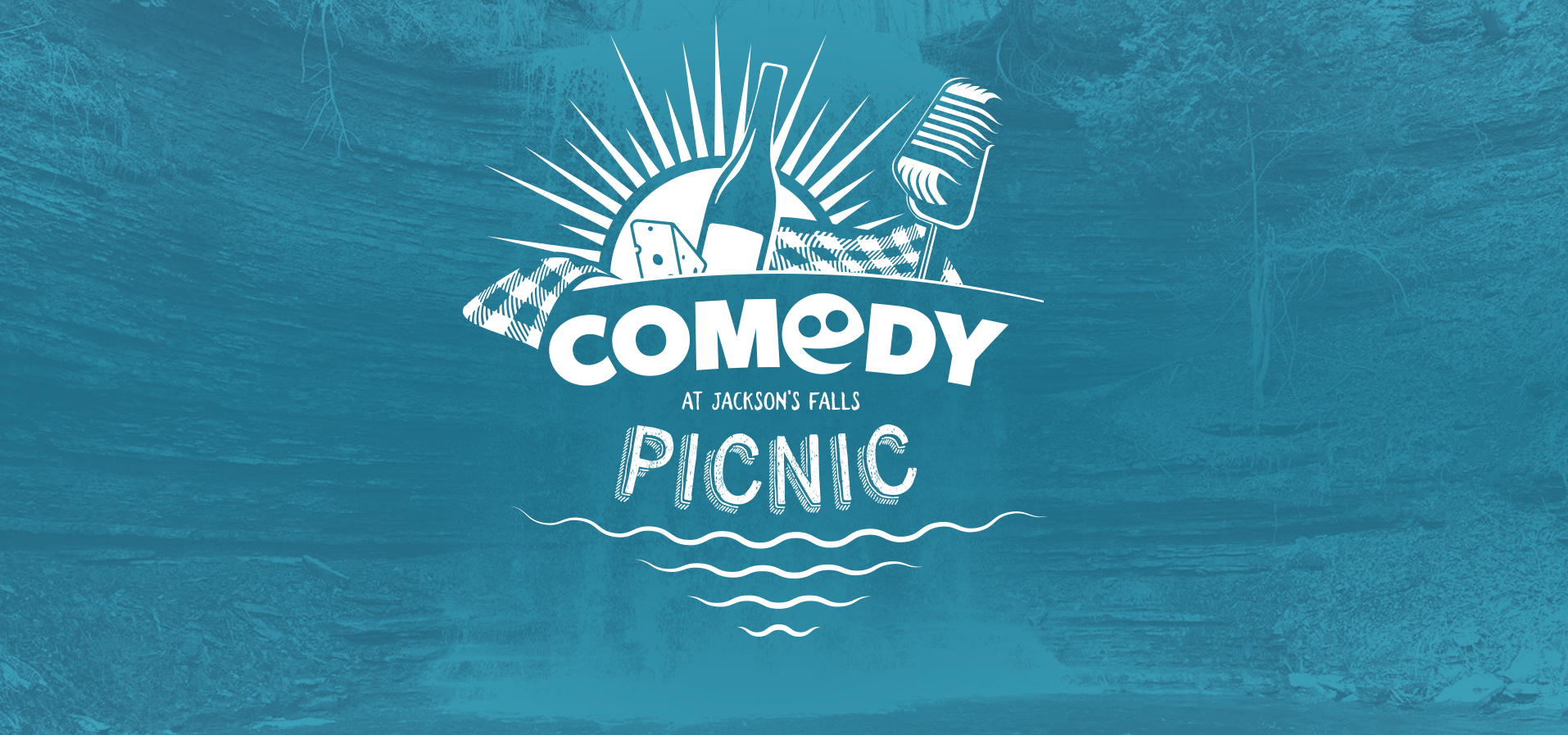 Join us at one of The County's original hospitality gems for an unforgettable evening of live comedy in the intimate countryside of Milford. Bring a camp chair, or a picnic blanket and enjoy a sunset sip at Jackson's Falls Country Inn and share a laugh with some open air, improvised comedy by Kingston improv duo 2 LIVE QUEERS!
We welcome 2 LIVE QUEERS – IMPROV COMEDY DUO to another beautiful Prince Edward County outdoor stage!
You don't want to miss this hilarious Improv Comedy Duo! Show starts at 5:00pm – enjoy inclusive improvised comedy created live on the spot, based on audience suggestions.
Laugh until the sun starts to set with 2 LIVE QUEERS stage & screen veterans Tony Babcock, he/him (Netflix, Improv Olympic Los Angeles) & Amy Wilding they/them (Vancouver Theatresports, Queerprov).
Your face will hurt from laughter, as 2LQ invents characters, locations & situations before your very eyes; utilizing your ideas, their quick wit, and an abnormally large selection of wigs and hats! They are live and they are Queer!
THEY can't wait to make YOU laugh at JACKSON'S FALLS COMEDY PICNIC!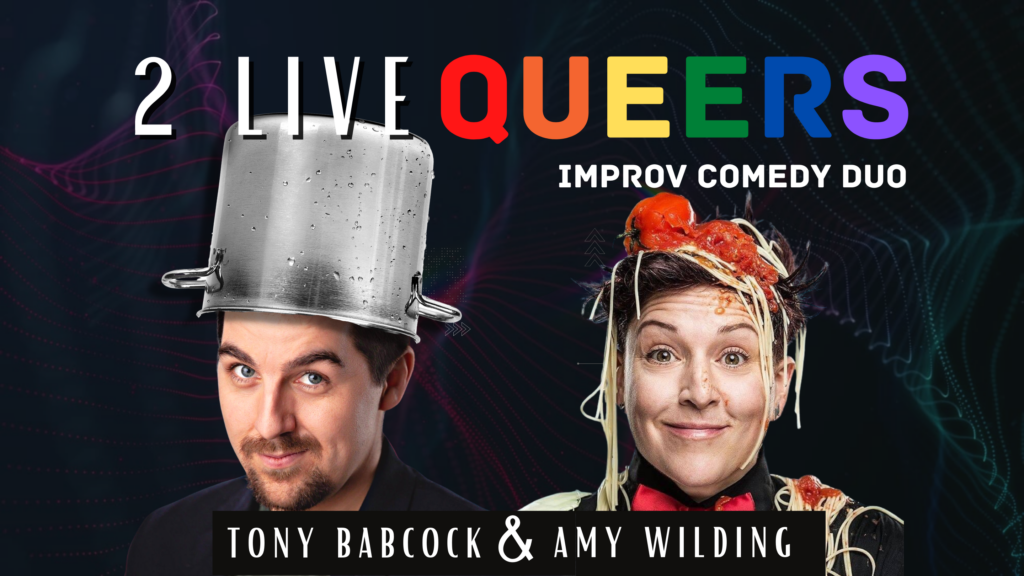 2 LIVE QUEERS
2 Live Queers – Improv Comedy Duo perform a hybrid show of both Short-Form and Long-Form improvised comedy based on audience suggestions. With the help of many wigs and wacky hats they bring Queer and Non-Binary characters to life through a series of games and on the fly storytelling. Don't worry, even if you identify as straight, you will still understand every word! They are super silly, unapologetically weird and physically hilarious!
Tony Babcock
Tony Babcock is an acting coach, filmmaker & professional actor with credits /across CBC, Netflix, Amazon Prime, Bell Fibe TV 1, Out TV, TVO, CTV, Fearless Streaming Platform, Off-Broadway, The Cartoon Network, Global, ​Tribeca Film Festival, over 70 stage plays and more. He has performed improv with the improvOlympic in Los Angeles, Second City and Bad Dog in Toronto and for 15 years with the Canadian Improv Showcase all across Canada. He is one half of the comedy improv duo '2 Live Queers' who has a monthly residency at the Grand Theatre in Kingston.
Amy Wilding
Amy Wilding, known mononymously as Wilding (Queer, Non-Binary – They/Them/Mx) is an Improviser, Actor, Comedian, Director, Producer, Writer, Host and Improv Teacher. Wilding has been performing and teaching Improv for over 20 years. Their high energy, quick wit and rolodex of zany characters can be found on many stages from Vancouver, BC to Kingston, ON.
Wilding is one half of '2 Live Queers – Improv Comedy Duo', bringing Queer and Non-Binary stories to life with Tony Babcock, along with an incredible collection of wigs, and wacky hats! 2LQ has started performing monthly at The Kingston Grand Theatre.
Wilding is an Alumni Performer, past Artistic Director and Improv Workshop Instructor with QueerProv – Western Canada's premier Queer Improv Troupe and an Alumni Performer, Sound and Lighting Improviser with the Improv Centre – the organization formerly known as Vancouver TheatreSports.
Wilding loves connecting with people and making them laugh. They enjoy sharing the gift of Improv with as many people as they possibly can!
COMEDY PICNIC AT JACKSON'S FALLS
2 LIVE QUEERS
Saturday, September 24, 2022 – 5:00 – 7:00pm
Jackson's Falls Country Inn (1768 Prince Edward County Rd 17, Milford)
Fully licensed outdoor garden, and special menu available on site.
(Comedy Country programming is subject to change without notice)
What to bring
Something to sit on! The audience area is a slightly sloped grassy lawn… picnic blanket, camp chairs etc. are ideal.

This is a sunset event in late September. Dress for the weather – Sunscreen, bugspray and long pants are smart choices, as are sweaters, layers and a brolly in case of weather.
Your camera – the setting is truly to die for
Most importantly…
An open mind.
Some patience.
A great attitude.
Don't forget your mask!
To learn more about this event, click here